Christ Exalted Seminary Bible School
"Living the abundant Life through the Word of God"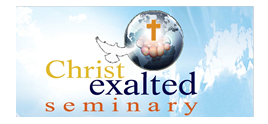 Do you have a desire to study the Word of God and grow in maturity in the Lord Jesus Christ?
Do you hunger to be taught by the Lord and understand the Bible, receiving prophetic insights?
Christ Exalted Seminary is dedicated to helping students become more disciplined in their daily study of God's Word. We will equip and make ready a people for the Lord, who will not be ashamed for their lack of knowledge of the Scriptures, but having studied will be approved of God, fit for His use, possessing the ability to rightly divide the Word of Truth (2Tim. 2:15), and who will "be ready always to give an answer to every man that asks" (1Pet. 3:15)
Living the abundant life through the Word of God!